Whole Blood is Coming Back!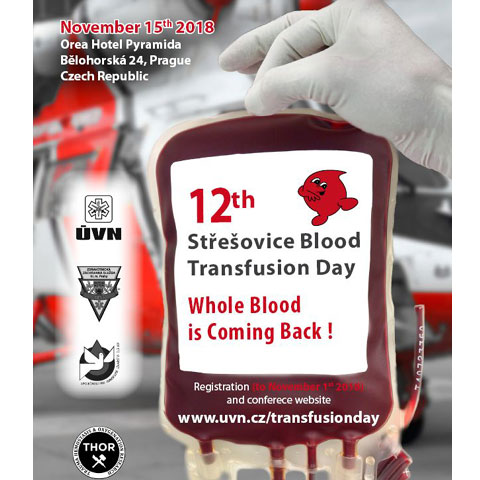 The event has the character of a postgraduate education and will be guaranteed by The Czech Medical Chamber.
The event will be held under the auspices of the COMEDS Chairman and Director of Military Medical Agency Ministry of Defence, BG Zoltán Bubeník, MD and Director of the Military Health Department, Ministry of Defence, Colonel Petr Král, MD
The use of whole blod has become a valid option in a number countries, be it for the treatment of massive bleeding in cases of polytrauma at emergency rooms, for pre-hospital care in remote areas, or for meeting the needs of air ambulances and military medical care. As such, the use of whole blood, other blood products and blood derivatives in pre-hospital care is being widely discussed in the field of emergency medicine and military health care. A world-renowned experts on this current topic has agreed to participate.
Date of conference:
November 15th, 2018
Venue:
Congress Hall - Orea Hotel Pyramida, Bělohorská 24, Prague, Czech Republic (link)
Conference fee:
35,- €
Payment:
cash payment on site
Registration dead line:
November 1st 2018
Social evening:
November 15th, 2018, 19,00 - 23,00, Orea Hotel Pyramida, Bělohorská 24, Prague
Social evening fee:
20,- € (cash payment during registration)
Accomodation:
Orea Hotel Pyramida, Bělohorská 24, Prague, Czech Republic
Contact:

Zuzana Mošoňová, This email address is being protected from spambots. You need JavaScript enabled to view it.
Miroslava Kricnerová, This email address is being protected from spambots. You need JavaScript enabled to view it.
pdf Announcement 12. STD (1.74 MB)