COVID-19 information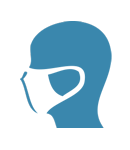 NOTICE TO VISITORS
During the entire visit, without exception, use mouth and nose protection (FFP2 respirator or similar device, always without an exhalation valve with a filter efficiency of at least 94% according to the relevant standards). Children under 15 years of age who can also wear other protective equipment - a medical face mask or a similar device preventing the spread of droplet infection.
Thank you for being responsible and considerate to other people.

Registration to vaccinacion. Payment information. Where can you find your vaccination certificate?