A7 Location: Emergency - building A, entrance A7, lower ground floor
C3 Location: inpatient department - building C, entrance C3, 2nd floor

Introduction: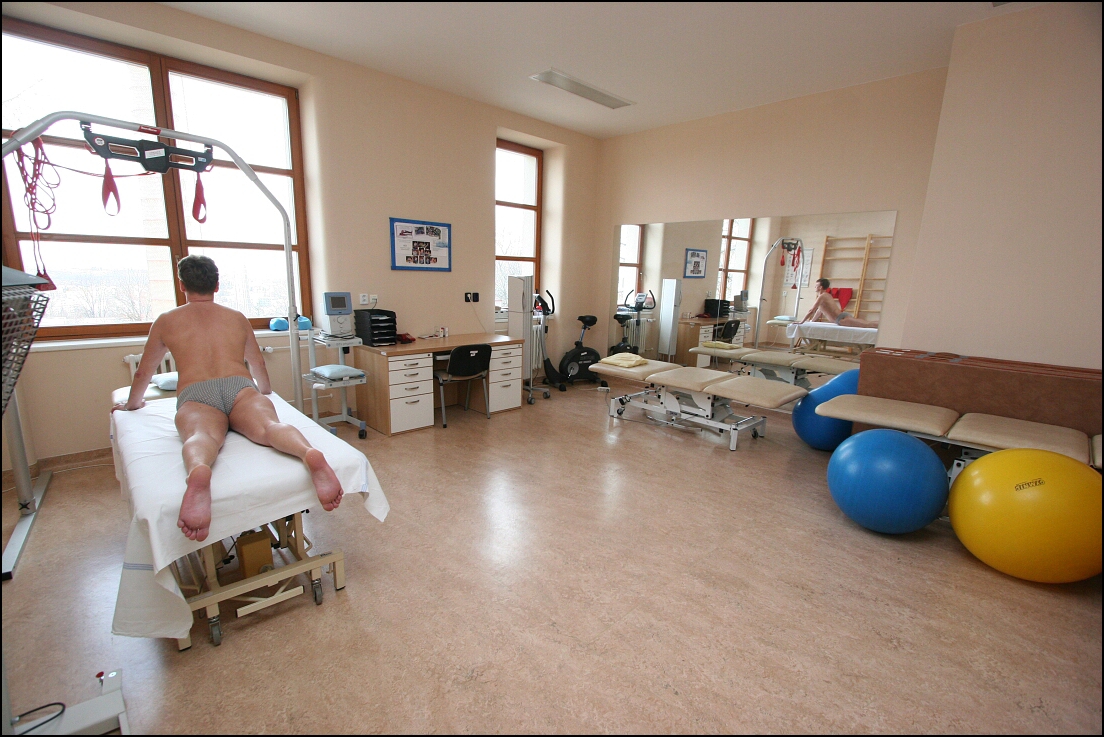 The outpatient clinic is currently located in the refurbished premises at the A7 Pavilion. Our therapists are professionally trained to provide outpatient care at the highest level, which includes a range of exceptional procedures.
Our clinic is specialised in the treatment of neuromuscular and musculoskeletal disorders, mainly Low Back or Neck Pain and other vertebral pain syndromes, as well as post-stroke brain recovery, sport injuries and rheumatic diseases.
In addition, our clinic specialises in post-operative treatments such as physiotherapy after surgery of spine and brain, hip and knee joint replacement, and post-traumatic physiotherapy services and preventative medicine among others.

Reservations:
Please call or make reservations at the department reception.


Outpatient clinics:
Outpatient Rehabilitation and Rheumatology

Upon acceptance highly professional physicians firstly examine all patients. They state the differential diagnosis and apply needed treatment intervention, such as a manual therapy, which follows with a rehabilitation programme and eventually with an evaluation of the treatment process.

The treatment is guided by findings of the assessment. Based on the unique needs of the patient, various physiotherapeutic treatment methods are applied. Physiotherapists provide services to individuals and population in order to develop, maintain and restore maximum movement and functional ability.
It encompasses various types of curative procedures, prior to all physical exercise methods and different kinds of promotive electro-, mechano-, and hydrotherapy.

The physical exercise improves patient's condition, helps to restore movement stereotypes and to regulate muscle imbalances for patients with musculoskeletal disorders.

Training programmes and instructions for exercise therapy are designed by our physiotherapists. In some cases, physiotherapists carry out manual treatment, particularly mobilisation and supplemental soft tissue treatment. They use different methods of exercise programmes such as Proprioreceptive Neuromuscular Facilitation (PNF), Mechanical Diagnosis and Therapy (MDT - McKenzie method), Bobath therapy, Vojta therapy, and many other specific exercise therapies.

Our conventional physical treatment methods include ESWT (extracorporeal shock wave therapy), laser, galvanotherapy, iontophoresis, diadynamic currents, TENS (transcutaneous electrical nerve stimulation), combined therapy of ultrasound / TENS, pulsed magnetic field, short wave diathermy.

Balneotherapy involves bath therapy (carbonic, whole body whirlpool, as well as local, underwater massage, Scottish shower). Also, the hydrotherapy wraps are applied to patients in the relaxation room. Moreover, disabled patients can exercise in our pool.

We always assure our patients are informed about their particular conditions, their required treatments and prognosis.

Our therapists are entirely aware that patient's education is a key to the success of a therapy.

Electromyography

The department has been equipped with the Keypoint device, which enables the electrophysiological diagnostic of numerous neuromuscular disorders and diseases.


Ward Unit
The ward unit is situated in C3 Pavilion with a capacity of 27 beds (including 4 single-bed superior rooms).
The department is fully equipped (including equipment for hydrotherapy and electrotherapy) and adapted in order to treat patients after injuries, surgeries and other acute musculoskeletal diseases.

The staff consists of physicians, nurses, also physiotherapists, occupational therapists, clinical speech therapists and nursing staff trained in rehabilitation care.

Price for standard room is CZK 735 / day.
The length of a patient's stay in the department depends on his/her current health condition and is usually planned over a 2-3 week period.
Extra Services
Extracorporeal Shock Wave Therapy
The treatment usually involves 3-6 therapy sessions in about a seven-day interval. Each session takes approximately 20 minutes. The mechanical effect of this method is painless, reduces tension of surrounding tissue, increases the blood circulation and metabolism, as well as absorption of calcium within muscles and tissues.

The treatment is not covered by health insurance.
Price: CZK 500 / one therapy session.

Classical massage (partial or total)
The effects of a massage is to change the autonomic balance, to increase metabolism, stimulate or provide a calming effect on physical performance, and to increase tissue perfusion or to reduce pain.

Bath therapy (with lavender, mint, lemongrass or pine oil)
A bath therapy has a positive effect on regeneration of joint and musculoskeletal system, which also contributes to muscle tension. This implies a use of both thermal and mechanical effects of water and the effect of herb substances.
We offer HERBADEN bath additives, which contain 85 per cent of medicinal plant extract resulting from slow (4-6 weeks) plant extraction. All baths therapies follow pharmaceutical quality standard (ISO 9001).

Carbonic and Bubble bath therapy
A carbonic bath therapy uses the positive effects of CO2. CO2 dissolved in water is absorbed by the skin and leads to healthy blood flow. It was proved that during this therapy the blood pressure is decreased and it also reduces the cardiac work as well as the heart rate.
This therapy is very useful and efficient e.g. during treatments of rheumatic diseases, venous disorders or symptoms of poor circulation of CNS.

Taping therapy
Taping is a form of strapping. It is a procedure that uses tape, attached to the skin, to physically keep in place muscles or bones at a certain position. This reduces pain and aids recovery. Taping is usually used to help recover from overuse and other injuries. Lymphatic taping activates the local blood flow in capillaries as well as the skin lymphatic system, supports healing through local regeneration and reduces swelling.


Head Physician:
Michal Říha, M.D., Ph.D, MBA