CH2 Location: Building CH2
Introduction: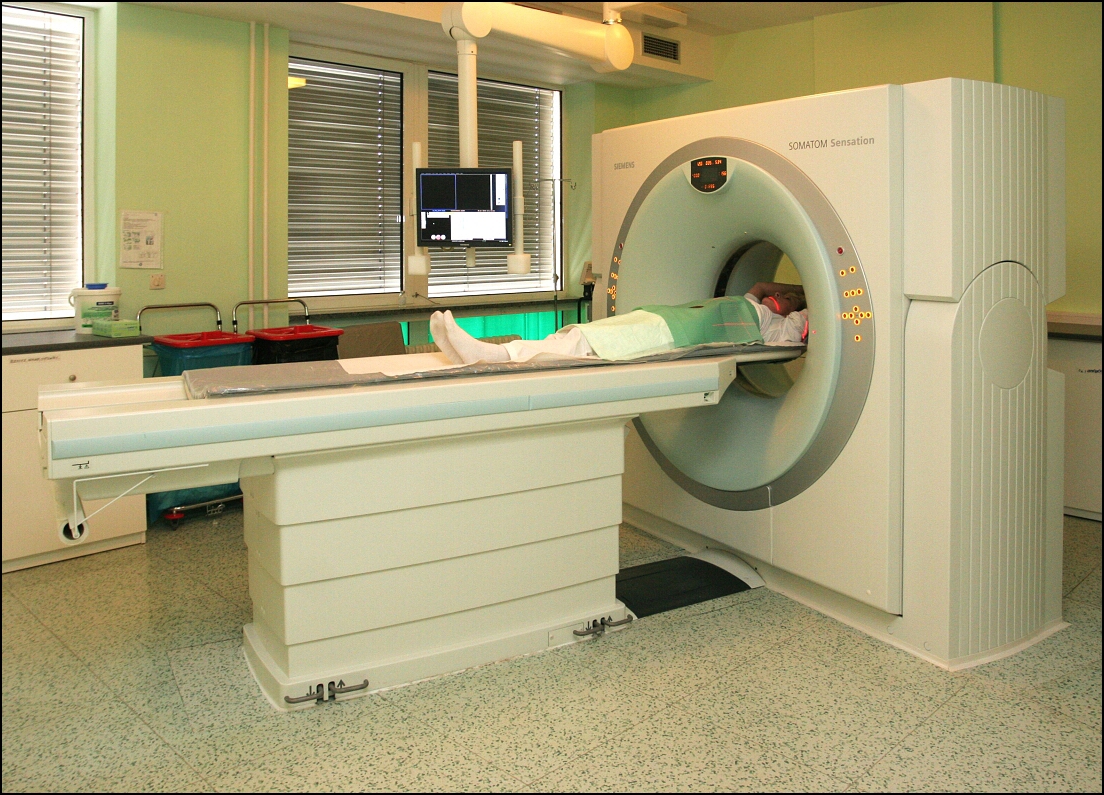 The department is located in the building CH2 with direct link to the Emergency Department and ward unit of the Intensive Care Unit. The Department of Radiology provides diagnostic and therapeutic testing in the field of interventional radiology. We are a complementary department providing outpatient and emergency services (our professional activities are available 24 hours a day).
Use of mobile phones and smoking is forbidden in all areas of the department.
Patients are examined in accordance with the Principles of Patient Radiation Protection and hygienic standards of radiation set out in the Atomic Act.
Acute cases have priority (STAT tests and patients from the Emergency Department) which may shift the examination time of patients with booked appointment.
Results of acute tests are available immediately after the examination and processing of documentation. Results of non-acute and ordered tests are available within 24 hours or possibly the next working day.
In acute cases it is necessary for the patient to be accompanied during the arranged examination since there is no possibility of providing supervision. All procedures and examinations are covered by insurance.
Outpatient clinics:
Contact Center
The center is responsible for ordering and registration of patients for routine radiologic screening tests, Digital Radiography / Computed Radiography, Urography, CT scan or ultrasound. We also operate as the archive center of radiologic screening tests and CT scans.
Section of Fluoroscopy and Internal Surgery
Provide a wide range of procedures like examination of the digestive system as well as surgery of blood-vessel, spinal cord and organs of the digestive system.
CT Section
We use two modern muldidetector CT scanners (64 MDCT Siemens and 320 MDCT Toshiba) for organ mapping of the whole body with minimal exposure to X-rays (we mainly specialize in organs of head, abdomen, chest and angiography ). All specialized procedures follows the latest methods of modern expertise.
Magnetic Resonance Imaging (MRI) Section
MRI is a modern diagnostic procedure without exposure to X-rays. We use two modern MRI scanners ( 1.5 and 3 Tesla). It is primarily used to diagnose diseases of the brain, spinal canal, soft tissue and joints. This method also allows the examination of blood vessels, thoracic and abdominal organs as well as pelvic cavity. 3T MRI is also used for peroperative neurosurgical monitoring anf functional brain examninatin (fMRI).
Digital subtraction angiography (DSA) Section
This section provides a comprehensive diagnosis of diseases of the arteries and veins with minimal patient burden. We also provide complex internal surgeries as a part of the treatment of brain diseases, spinal artery syndromes and peripheral arterial diseases. We use two DSA units – Peripheral DSA unit with flat detector and NeuroDSA unit with 2 flat detectors, both able to perform 3D angiography and 3D CT imaging.
Ultrasound Section
This section is equipped with 2 modern ultrasound devices used primarily to diagnose organs of the neck, abdomen, soft tissues and pelvic. It also allows the complex mapping of blood vessels (Doppler Testing) and breast ultrasound imaging and contrast enhanced ultrasound.
Denzitometry Section
This section is located in the new pavilion (entrance A4) and is equipped with the latest diagnostic devices for determination of an appropriate osteoporosis treatment. We accept orders by phone however due to high demand the average waiting time for appointments is between 4 or 5 weeks.
Mammography Section
This section provides diagnosis or detection of breast diseases including surgical intervention.
Head Physician:
COL. Tomáš Belšan, M.D., Ph.D.